Our February Favourites: Local Designers and Makers
This month is all about love here at Bowerbird, and sharing some of our favourite local designers who are producing products we can't get enough of! As you may have seen, we are starting brand new workshops this year, allowing the Bowerbird experts to teach you all the knowledge behind the business. You can read all about these on our blog post here. Creativity is a wonderful gift, and it's twice as nice when you can share the love and learn from your surroundings.
At Bowerbird, we have always maintained our passion for sustainable design and ethical production. It is fundamental to our practice, and it comes with years of dedication to the skill. This also comes from soaking in our surroundings and seeing wonderful ways in which other local makers are driving forward their business. Having said this, it makes sense that we turn our attention now to those designers, people whom we admire and appreciate.
Bowerbird Collections has always been a Brisbane based company, with most of our products being assembled right here in our own Paddington store. This year we are even focusing on providing workshops to the community, sharing our years of knowledge as local designers. We believe in the importance of supporting Australian made products! It is fundamental to us to make a conscientious effort to source our materials ethically. As this is something we hold so dear, it makes us extra happy when we get to watch other businesses moving in the same direction. So without further ado, here are some of the local designers we've been loving!
Blue and Grae
Brisbane-based Blue & Grae are our go-to makers of leather goods. Founded by Josef Selway and Grace Hurworth, Blue & Grae can be defined by their timeless and minimal designs. They focus on responsible production and utilize traditional methods to create high-quality leather pieces. This method encourages pieces that are made by hand, without a strong presence of technology. It's so important to be aware of how you source and use your materials as a maker. We believe Blue & Grae's approach is one to be acknowledged. Blue & Grae products are made to order, or in small batches which results in a low-waste production trail. They encourage the consumer to buy less and to buy wisely.
Partnering Up
These characteristics set Blue & Grae apart in today's fast-fashion industry. We like the work of these local designers so much we even have a collaboration with them. Our wonderful belts, with unique fabric combinations and a leather backing, are pieced together by the team at Blue & Grae!
Alice Nightingale
Alice Nightingale and her designs are a breath of fresh air in the fashion industry. The entire process behind her pieces focuses on secondhand, vintage, and locally produced items that do not adhere to the fast-fashion scheme. We love this approach, as we find that too often clothing options in the industry follow trends closely. This means we often produce garments that are only designed to be worn until the next season emerges. Alice Nightingale's products are environmentally and socially sustainable, and are made right here in Brisbane in Alice's studio!
The inspiration behind the design? Feminine and quirky! Alice takes inspiration from vintage trends and local flora and fauna, executing fabulous pieces in small batches for total wearability!
Social Sewing Workshops
But Alice isn't just a designer selling her goods. Head over to her website and you can see a range of classes on offer, where she teaches you her own knowledge in the textile industry. The affordable classes are both social and educational and an excellent entry into the world of sewing. We love this!
Magpie Goose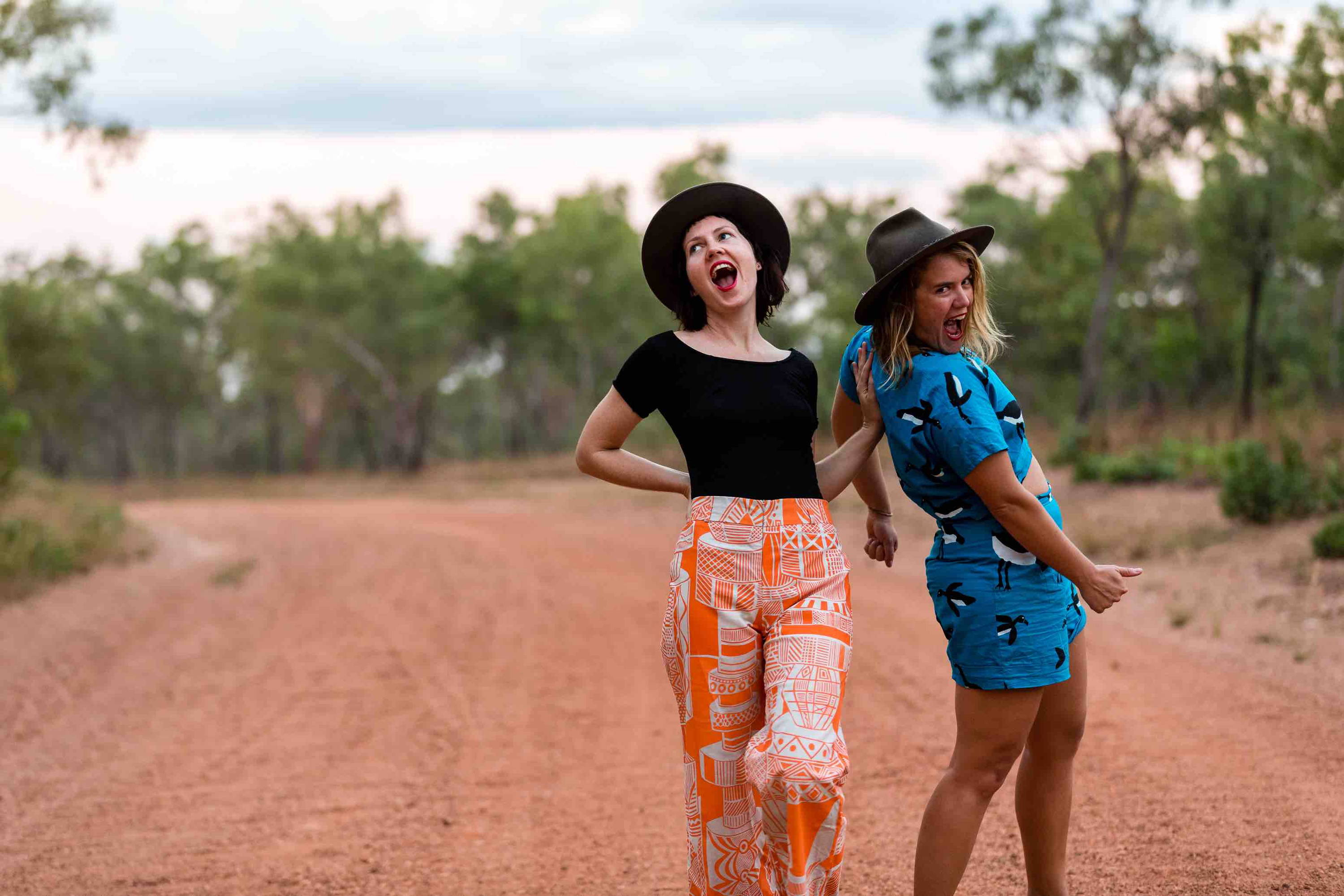 Australian social enterprise Magpie Goose has a genuine mission: celebrating First Nations culture through the fashion they produce. They allow wearers to connect with the stories and people behind them. For every clothing collection, they aim to introduce you to new realities and showcase unique stories from First Nations People across Australia. The aim? For the wearer to feel a connection to where their clothing has come from. You can read these stories here or peruse their collections here.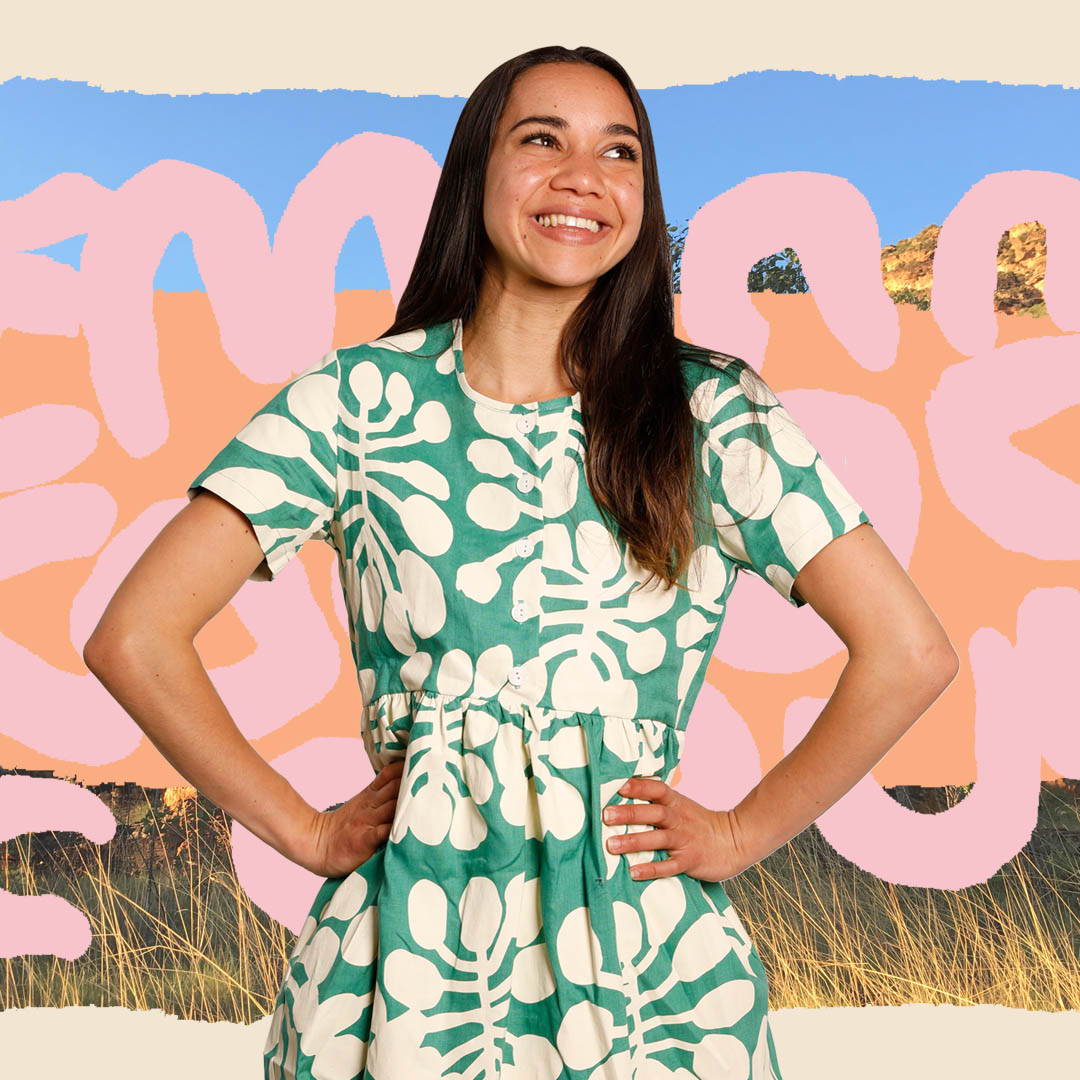 Magpie Goose is us saying "we can and must do better."

Maggie and Laura, Magpie Goose Founders
Environmentally Conscious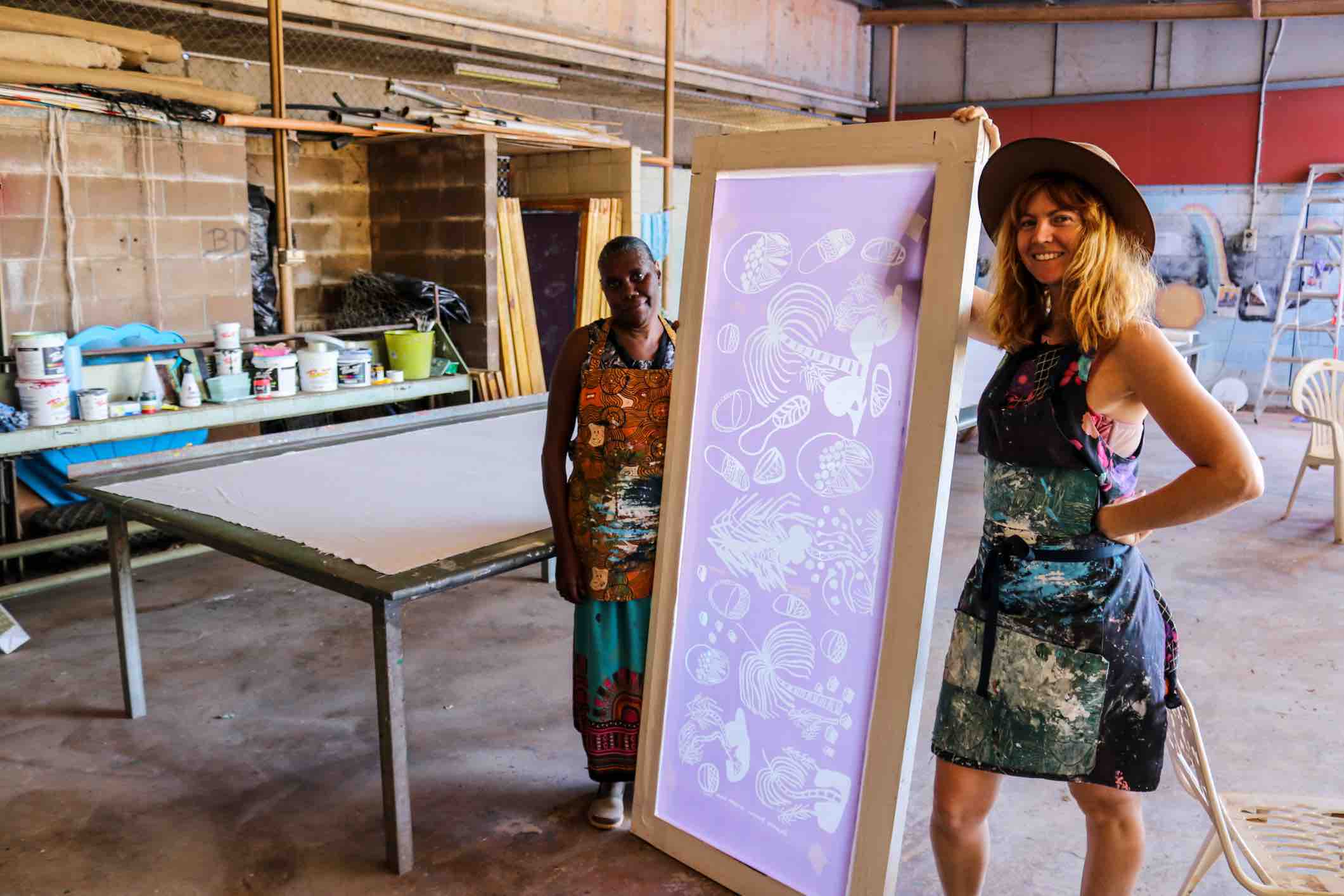 Magpie Goose has a commitment to zero waste and works towards this goal tirelessly. They work predominately with environmentally friendly and biodegradable materials, avoid plastic packaging and encourage longevity in the wearing of their hand-made clothing. They even work with Sydney local designers Publisher Textiles for their screenprinted fabrics. Their clothing is manufactured in Sydney, but their online store is open 24/7 and their clothing can also be found at pop-ups around Australia.
Vege Threads
Vege Threads is our new go-to everyday wear, for comfort made sustainably. Vege Threads has a strong drive to produce clothing that is 100% Australia made, with organic and eco-friendly materials. They even dye their fabric in limited numbers! There is a record on their website so you can trace back the material to how it was processed! Their supply chain is completely transparent, allowing the consumer full access to where their clothes come from.
This transparency is one of our favourite parts about Vege Threads! Vege Threads finds local knitting mills and dye houses to work with and bring together a community of like-minded people. They encourage long-lasting ownership and make good designs with good ethics. You can read all about their practice and ethical manufacturing here, or even better you can find their behind the scenes film here.
Sustainably Flexible
Our favourite look from Vege Threads? They have a fantastic range of active wear for all body shapes. This means we can do our daily yoga practice while still feeling good about the clothes we are wearing.
We really enjoyed writing this blog, sharing with you some of our favourite local designers. It's such a wonderful opportunity to celebrate and showcase the thriving creativity in the Australian market. Do you have any local designers you think belong on this list? We love hearing about local designers and makers you love and learning more about what is happening in the Australian fashion industry!
Until next time xx